Sign up
Demo

Account

Free trial: Trade with simulated 100,000 USD.



INCORPORATE CFDs INTO YOUR TRADING STRATEGY
Bring flexibility and versatility to your trading strategy with the ability to trade CFDs with Cornèrtrader. Take advantage of low capital requirements, along with the ability to short. You can open up an enormous range of possibilities for hedging and develop strategies to profit in falling markets.
Trade CFDs on a Wide Spectrum of Assets
Our comprehensive range of CFDs lets you trade stocks, stock indices, Forex, bonds, ETFs and more – all with the benefits of leverage – from within one seamless platform.
Insight Integrated
The Cornèrtrader platform helps you work smart with news, calendars and trend-tracking across the underlying assets covered by our vast CFD offering.
Multiple Assets
Whether a primary focus, or part of a broader strategy, CFDs are just one of the trading products that you can incorporate into your portfolio within the single Cornèrtrader platform.
A selection of our pricing
New York Stock Exchange

Xetra (FSE) single stock

Swiss single stock

Germany 30

Switzerland 20

*1.5 cents per share

INDEX-TRACKING CFDS: A DIVERSIFIED INVESTMENT TOOL
Looking to maximise profits and gain exposure to the world's largest stock indices with minimum capital commitment and lower risk? Index-tracking CFDs can be a valuable addition to your trading strategy. This diversified investment tool combines leverage, low costs and ease of trading. As markets rise and fall, you gain the flexibility to open up opportunities to profit from market moves. Available from the Cornèrtrader platform, index-tracking CFDs allow you to trade an entire stock index on real-time prices all at once.
Consider the advantages of trading index-tracking CFDs with CornérTrader:
Index-tracking CFDs track the performance of a stock market index. They can be sold short, opening up the possibility of turning a profit in a falling market.
Maximum exposure with minimal capital requirements.
Trade 22 leading stock indices with a single click.
Very competitive Bid/Ask spreads with no additional commissions.
Cost efficient market exposure because index-tracking CFDs don't require the buying and selling of individual shares.
Free yourself from fixed lot sizes
Working on the Cornèrtrader platform, you can trade any number of indices without being restricted to trading pre-defined fixed lot sizes.

TRADE MAJOR CURRENCIES WITH FX CFDS
As an extension of your overall FX strategy, you'll find that FX CFDs can be a cost efficient, simple way to trade major currencies online. Use the Cornèrtrader platform to trade commission free. Benefit from lower margin requirements – from only 0.5% with a small minimum trade size of 5,000 notional value.
Benefit from trading Forex CFDs with Cornèrtrader:
All costs are built into the Bid/Ask spread.
No need to roll CFD positions overnight and no financing charge is applied.
No exchange commissions.
Low collateral requirements.
Avoid restrictions on lot sizes with all the benefits of the price movement of the underlying Futures contract.

GAIN EXPOSURE TO A WORLD OF COMMODITIES
Now you can make commodities part of your overall CFD strategy. Add trades in oil, grains, softs, energies, gold and other precious metals. We make it as easy as trading any type of CFD. You gain a way to get direct exposure to the underlying commodity with all the benefits of trading a CFD.
Flexibility built in
Are you seeking to hedge or diversify your portfolio with commodities? But, want to do so without the large collateral requirements and lot sizes associated with Futures trading? Consider the benefits of commodity CFDs:
Easy and flexible trading with high leverage and low minimum trade sizes.
No commission or trading fees.
Automatic cash settlement.
One click trading to a wide range of global commodities.
Trade without fixed lot sizes
Cornèrtrader allows you to trade without being constrained by pre-defined lot sizes. Consider that the minimum trade size of a US Crude Oil is 25 CFD contracts – that is 25 barrels of oil, whereas the Futures minimum trade size is a 1 lot contract with 500 barrels of underlying asset.

TRADE RISING AND FALLING MARKETS WITH STOCK CFDS
Most traders seek ways to trade in both rising and falling markets. Trading single stocks as CFDs can be a good way to do that. And, even small market movements can result in profits because CFDs are traded on margin.
Global markets from one platform
The Cornèrtrader platform is your single point from which to trade the global stock markets. It's easy-to-use but sophisticated. And, you enjoy low commissions and transparent pricing.
Discover the benefits:
Trade 8,700 Single Stock CFDs from the world's leading financial markets.
Short sell stocks – for the possibility of showing a profit in a falling market and for efficient hedging of current Stock positions.
Low margin requirements, allowing you to leverage your positions up to 20 times -6000 Single Stock CFDs with just 15% margin or lower.
Streaming prices give you instant fills and, often, deep liquidity.
Benefit from market-leading execution, delivered at the right price from a bank you can trust.
Transparent pricing
When you trade Single Stock CFDs on the Cornèrtrader platform, you enjoy the best possible prices based on actual stock prices.
Benefit from greater liquidity
Improve your ability to execute trades at the volume and price you're looking for. Cornèrtrader helps with its access to additional, dedicated liquidity to the most traded Single Stock CFDs.
Take advantage of Smart Order Routing
Cornèrtrader's goal is to get you faster order fills at the price you're looking for. To find the best price for you, our trading platform automatically searches all the trading venues where your stock trades. That includes secondary trading venues – called Multilateral Trading Facilities (MTFs) in Europe.
Direct Market Access
Cornèrtrader goes further to give you more choice. We provide Direct Market Access ("DMA") on Single Stock CFDs to all exchanges. All your Single Stock CFD orders are sent straight to the market when you trade CFDs on the DMA setup.
Use the DMA setup to:
Trade inside the market spread.
Place orders directly into the exchange order book.
Participate in opening and closing auctions.
Trade directly off streamed exchange prices (upon subscription).
Access level 2 order book with full market depth (upon subscription).
DMA is built in
You can trade CFDs on DMA setup right from the Cornèrtrader platform you use for all your trades. The capability is a configuration available with your account.

HEDGE OR TRADE INTEREST RATE MOVES WITH BOND CFDS
With low margin requirements and small minimum trade sizes, Bond CFDs provide traders with a useful way to hedge an existing cash bond portfolio or trade directionally on the evolution of interest rates.
Trade Bond CFDs today
There is a wide spectrum of European Government Bonds available as CFDs. That means you can easily trade the relative evolution of long-term interest rates between Germany, France and Italy. For example, you might long one country's Bond CFD whilst short another country's Bond CFD.
Adding to convenience, you'll find that all trading commissions are included in the spread. And, eligible cash Bonds and Stocks can be used as margin collateral.
Transparent Pricing and Flexible Trade Sizes
Bond CFDs are based on the price of Futures Contract. You can trade without fees or commission – instead, a small mark-up is added to the spread of the Future. The minimum trade size is only 50x the index, compared to 1,000x included in 1 lot of the Future. Moreover, you can increase your trade size by increments of 1 index with the CFD if you wish, instead of 1,000 with the Futures Contract.

SPREAD RISK BY TRADING ETFS AS CFDS
Exchange Traded Funds (ETFs) aim to reflect the performance of global stock indices, bonds, sectors, commodities and other asset types. Trading ETFs can be an effective way to spread your risk. They can also enable you to reach otherwise hard-to-reach markets or geographies in a way that is both cost-effective and flexible.
Trade a wide range of ETFs
With Cornèrtrader, you get access to more than 1,500 individual ETFs/ETCs from the most traded issuers. And, you can trade more than 450 of these as a CFD.
Trading ETFs as CFDs allows you to:
Trade ETFs on margin.
Gain the ability to short sell the ETF if you believe the price will fall.
Full price transparency
Just like trading regular stocks with Cornèrtrader, when you trade ETFs as CFDs, you do so on the actual prices from the exchange. (Live prices upon subscription.)
Multi-asset
platform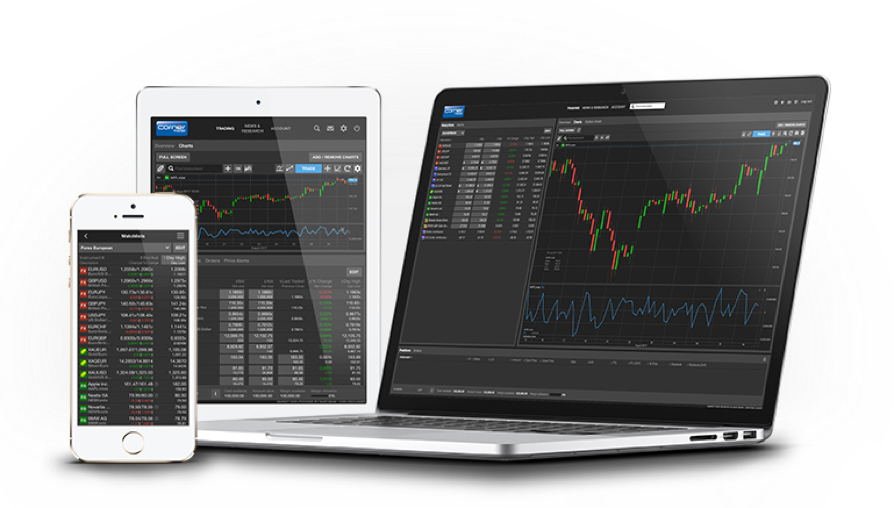 Trade all your desired asset classes
from a single platform.
THE RIGHT
ACCOUNT?

Find out which of our account types matches your trading requirements.