Sign up
Demo

Account

Free trial: Trade with simulated 100,000 USD.



Identify investment alternatives with contract options
If you're seeking ways to add new angles to your strategy, Contract Options can open a range of fresh trading opportunities. These investment alternatives allow you to trade Options on gold, oil and other commodities, as well as currencies, interest rates and major stock indices. A way to turn market uncertainty and volatility to your advantage, trading Contract Options on the Cornèrtrader platform can enable you to address both rising and falling markets – or markets without any specific direction.
More Trades
Use Contract Options to position for change – or no change – in volatility, or to achieve multi-asset portfolio hedging against price movements of the underlying assets.
Attractive Fees and Charges
You can trade Contract Options with Cornèrtrader with no minimum ticket fee or carrying costs, and with no trading platform charges.
Stocks as Collateral
Cornèrtrader enables cross-product margin utilisation, which means that you can use Stocks as margin collateral for trading Contract Options.
A selection of our pricing
EUR

GBP

USD

CHF

JPY

A RANGE OF OPTIONS
You can trade Calls and Puts Contract Options on the Cornèrtrader platform. Both American and European style Contract Options – as defined by the exchange where the Options are listed – are available for trading.

USE THE OPTIONS CHAIN TO TRADE CONTRACT OPTIONS
We enable you to trade Contract Options through an industry-standard Options Chain. It's built right into the Cornèrtrader platform.
The Options Chain provides you with a useful overview of the different strikes and maturities of the related underlying assets. Maturities and strikes can be found in the middle of the options chain. Calls are on the left and Puts are on the right. To navigate down the maturity curve, simply scroll down.
When the underlying (asset) is a futures contract, you find the first 3 maturities of the contract on the top of the options chain. When the underlying (asset) is a cash index, such as the Eurostoxx50, the cash index is displayed.
The number of strikes listed in each maturity can be changed from 4 strikes to 24 strikes, giving you a clear overview of your trading opportunities.
Multi-asset
platform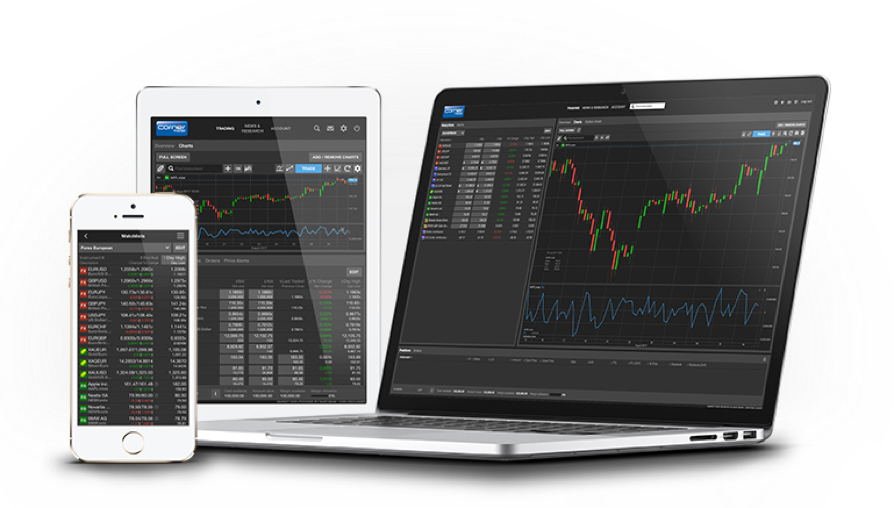 Trade all your desired asset classes
from a single platform.
THE RIGHT
ACCOUNT?

Find out which of our account types matches your trading requirements.