Sign up
Demo

Account

Free trial: Trade with simulated 100,000 USD.



EXPLORE NEW OPPORTUNITIES WITH FX OPTIONS
When it's time to diversify your trading strategy, Cornèrtrader is ready with a range of opportunities, including Forex Options. Extend and balance your portfolio by using various investment timelines along with hedging spot positions. You're able to trade Forex Vanilla Options for more than 41 currency crosses, including gold and silver.
Live Streaming Prices
Take advantage of our deep liquidity and immediate trade execution on live streaming prices – without dealer intervention.
Broad Coverage
Gain broad instrument coverage for executing your full strategy, with our innovative FX Options Board covering maturities from 1 day to 6 months.
Insight & Control
Inform your decision-making with free FX Options position reports and enjoy automatic exercise and settlement on expiry of your options.
A selection of spreads
EURUSD

USDJPY

GBPUSD

AUDUSD

USDCAD
TURN VOLATILITY TO ADVANTAGE WITH FX VANILLA OPTIONS
Consider adding FX Vanilla Options to your Forex spot trading strategies and take greater advantage of market volatility. Cornèrtrader gives you access to a deep liquidity pool, delivering automated execution on live, streaming prices up to 10,000,000 units of notional currency. Your trading power is enhanced with our competitive pricing and tight spreads on Vanilla Options on more than 40 currency crosses – including Gold and Silver against the US Dollar.
With Cornèrtrader, you experience the flexibility that allows you to customise as you execute your strategy. Before you place a trade in FX Vanilla Options, you can choose a strike and date of expiration from short dated up to 1 year maturities. For FX Vanilla Options that are "in-the-money" at expiry, Cornèrtrader automatically exercises the Option position into a spot position. If you decide to have your expiring Vanilla Option cash settled, the received spot position is automatically closed at mid-price of the current spread – even in volatile markets.

A BETTER TRADING EXPERIENCE WITH FX OPTIONS TOOLS
The FX Options Board
To do the best job, you need the right tools. The Cornèrtrader platform provides you with the capabilities you need to execute the FX Options strategy you choose. At its core is the FX Options Board. This unique tool combines powerful performance with a user friendly interface, resulting in a clear view of the Forex Options market. You get streaming liquidity, leverage and global access along with the added flexibility that Forex Options provide for trading any market movement.
The FX Options Report
With analysis tools such as our free FX Options Report, you get an in-depth look at your FX and FX Options positions across multiple currency pairs – with the same type of analytics used by professional interbank FX Options traders. You're able to manage your risk exposure more efficiently and more accurately reflect your market view in your trading.
Even More Tools
Cornèrtrader provides access to free at-the-money (ATM) Implied Volatility data for the most traded FX Options Crosses, as well as 25-Delta Risk Reversals. You're able to see the difference in volatility between puts and calls on the most traded out-of-the-money FX Options.
Similar to Implied Volatility, significant changes give you an indication of a shift in market expectations of future price variability in the underlying Forex spot market.
With Cornèrtrader, you also get access to over-the-counter (OTC) Volume Index showing the volume traded in the past 24-hours versus a rolling one month daily average.
The Market Pin Risk report shows positions of significant size in the FX Options market, which can have an influence on the underlying Forex spot rate.
Multi-asset
platform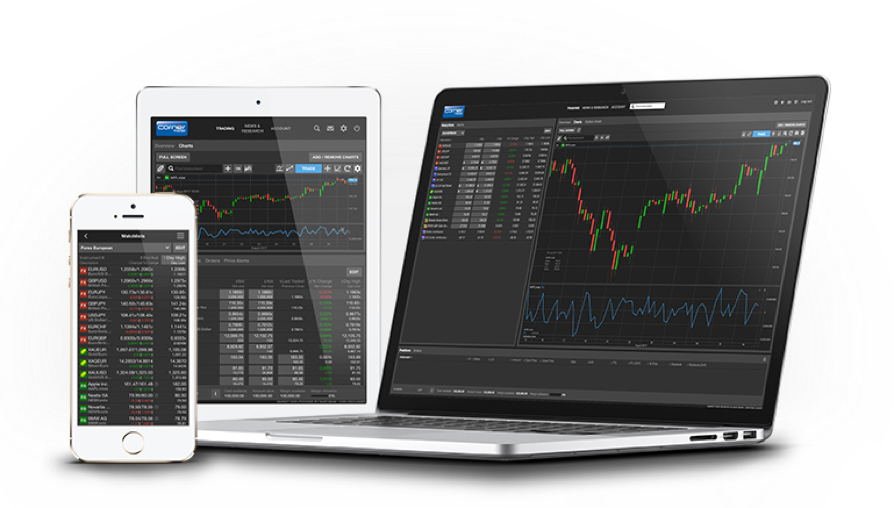 Trade all your desired asset classes
from a single platform.
THE RIGHT
ACCOUNT?

Find out which of our account types matches your trading requirements.