Sign up
Demo

Account

Free trial: Trade with simulated 100,000 USD.



STRENGTHEN YOUR STRATEGY WITH STOCK OPTIONS
Stock options can be an effective means to diversify your portfolio. They provide a way to protect your portfolio from unexpected market swings and hedge against volatility over time. Options can also provide opportunities to benefit from large up or down moves in the market. For example, call options can enable you to make future stock purchases at a lower price than the market rate, while puts can allow you to sell at a higher price per share in a falling market. For savvy traders, stock options are another Cornèrtrader tool for optimising your strategy.
More trades, lower costs
Cornèrtrader offers volume-based commissions. That means the more you trade, the less cost you incur per trade.
Attractive pricing
With Cornèrtrader, you get access to competitive pricing and tight spreads – easily. One click enables you to trade on live streaming prices.
Available collateral
You may already have the backing you need. Use your stocks as collateral toward trading stock options.

A world of options
Cornèrtrader gives you access to more than 400 of the most liquid options on stocks and stock indices in the most exciting markets in the US, Europe and Asia-Pacific. That means you have ample opportunity to trade individual stocks that you follow. Or trade on indices like the S&P500, DAX, SMI, etc.

Shifting strategies
Stock options provide an opportunity to execute a variety of plans for playing the markets and maximising the potential for profits.
Protective Put
Hedge your portfolio of stocks to protect against a short-term downside in the market.
Covered Call
While you enjoy the benefits of the underlying stock ownership, you can also earn a premium writing calls.
Straddles
Straddles allow you to take advantage of the unpredictability of stock price gap movements following quarterly earnings reports.

The right platform
However you decide to integrate stock options into your trading strategy, you'll find our platform an ideal place to do it. We combine sophisticated functionality with a user-friendly interface that's a perfect complement to your workflow.

Expert support
While the Cornèrtrader platform is a great place for you to develop your own approach to trading stock options, you're never alone. Our team is ready to help you understand all you can get from our rich functionality – and you can tap into a range of expert insight and thinking on the markets.
Multi-asset
platform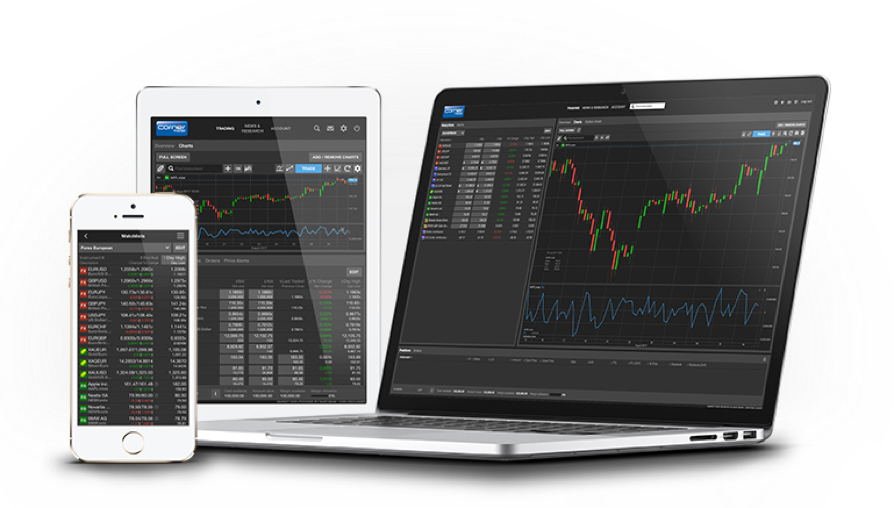 Trade all your desired asset classes
from a single platform.
THE RIGHT
ACCOUNT?

Find out which of our account types matches your trading requirements.