Sign up
Demo

Account

Free trial: Trade with simulated 100,000 USD.



ACCESS STOCKS AND EXCHANGES AROUND THE WORLD
Where in the world do you want to trade today? Cornèrtrader puts you in direct contact with more than 22 of the world's major stock exchanges. That means you can trade over 18,400 global stocks from your desktop or mobile device. Whether you're focused on a specific industry or region, or seek broader diversification, Cornèrtrader gives you easy access to equities.
Global Reach
Europe. Asia. The U.S. At Cornèrtrader, we put a worldwide network in action for you – with a single platform for building and managing your desired portfolio.
Full Tool Kit
Risk management tools. World-class technical and fundamental analytics. They're all at hand as you plan and execute your trades.
Flexible and Focused
Your work. Your way. Cornèrtrader not only gives you access to trading but allows you to adapt our flexible features to the way you like to work.
A selection of our pricing
Swiss Exchange

Frankfurt Stock Exchange_XETRA

NASDAQ Global market

NYSE

Hong Kong Stock Exchange

*1.5 cents per share

Build your portfolio on our platform
Cornèrtrader provides you with the feature-rich working environment you require as you weigh risk against potential rewards. From the vantage point of a single trading account, you get direct access to the world's stock markets. You also gain the opportunity to hedge and/or diversify your Stock portfolio, with the ability to trade many other asset classes from the same platform. In addition to more than 18,400 Stocks, you can trade 1,500 Exchange Traded Funds, FX, Futures, and CFDs on multiple types of assets.
Shorting Stocks
Shorting is an important part of many trading strategies and Cornèrtrader allows you to do so on the Stocks of over 7,500 companies. Use Single Stock CFDs (Contracts for Difference) traded OTC (Over the Counter) on our trading platforms. With our Index-tracking CFDs, you're also able to get exposure to broader markets by buying or selling (short) entire indices – with a single click. By trading underlying companies via CFDs intraday, you're able to save on overnight borrowing and financing costs. (Read more about the benefits of CFDs.)
Multiple Order types
As you trade, you can utilise a range of order types, including Market orders, Limit, Stop and Trailing Stop orders with GTC (Good-Till-Cancelled) feature attached. If you're a more advanced Stock trader, you can benefit by applying Algorithmic orders.
Smart order routing
You benefit from the fastest and highest level of execution because Cornèrtrader applies Smart Order Routing to all Stock orders. The process is enabled for all Stocks as well as all Single Stock CFDs offered for trading.
Stocks as collateral for margin trading
Trading Stocks online with Cornèrtrader makes you automatically eligible to use a percentage of your investment collateral for margin trading of Forex, Futures and CFDs – all from your single multi-asset account.
Streaming news
Staying up to date is key to trading. We provide you with real-time financial news from some of the industry's most trusted newswires, including Dow Jones Newswires and Market News International. You can also get an instant snapshot of the day's biggest gainers and losers on 22 global stock exchanges with our Market Movers tool.

Add Perspective with Technical Analysis
Charts are core to a trader's workflow. We help you to get a clearer view on where opportunities might lie with our Charting and Technical Analysis tools, integrated in the platform.
Are you a chartist trader? Trade on the chart!
Quick trading from the chart is available either as market or limit order, with a market tolerance
A position summary is also available in the chart. It shows your current net position, P/L and the number of open orders on a specific instrument.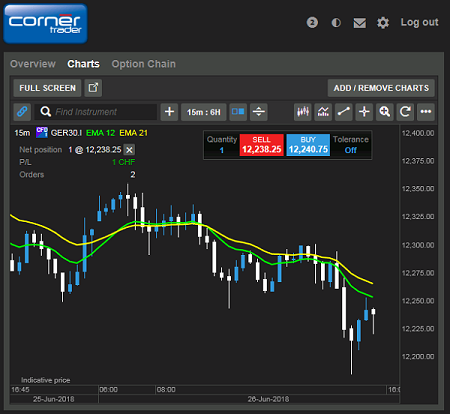 The use of technical analysis allows you to identify entry and exit levels with best "risk-reward" ratio, offering precise signals and timing for action (both to get in or out the market). Contrary to fundamental analysis, the technical analysis does not focus on the fair value of a financial instrument; therefore, it is not important to understand the reason of a market move and whether it is rational or not. Trading on chart implies a study of historical data of daily market actions: opening price, closing price, high and low of the observed period.
With Cornèrtrader you can apply your technical analysis by using the chart and its tools.
Cornèrtrader offers advanced charts to:
Perform order management directly from the chart
Customise the charts with drawing and export functions
Reference 60 technical analysis indicators within the charting tool
Use logarithmic charts
Compare multiple instruments
Multi-asset
platform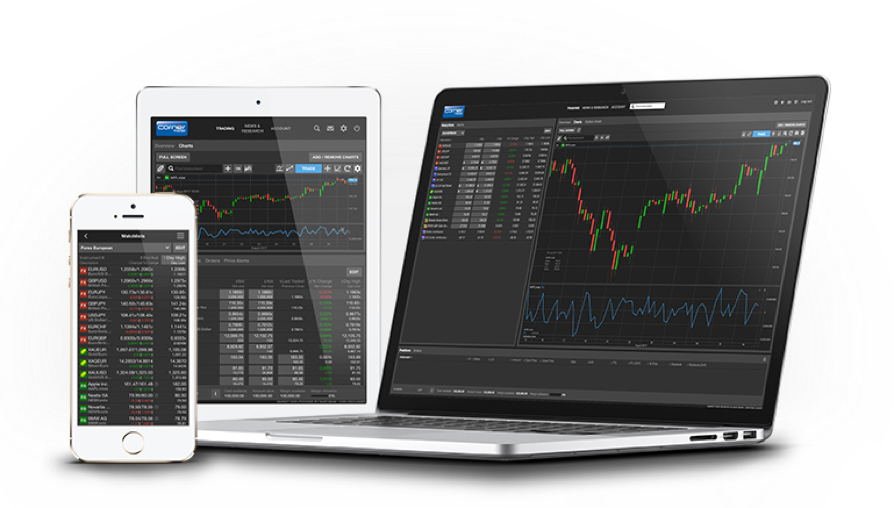 Trade all your desired asset classes
from a single platform.
THE RIGHT
ACCOUNT?

Find out which of our account types matches your trading requirements.